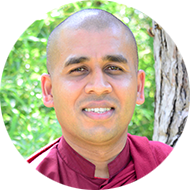 Bhante Ratana was born in Sri Lanka and came to the U.S. in 2006. Bhante became a Buddhist monk in 1989 at the age of 11 years old. His monastic training was under the tutelage of the most venerable Malagamma Chandajothi Maha Thero at Sri Bodhirajaramaya in Kandy, Sri Lanka.
Bhante Ratana holds a bachelor's degree with first class honors in Sanskrit from the University of Peradeniya, Sri Lanka and a master's degree in Pāli and Buddhist Philosophy from the University of Kalaniya in Sri Lanka. Bhante earned his Ph.D. in Sanskrit from the Oklahoma City University and Andrahpradesh University, India in a joint research program. After completing his studies Bhante was a Sanskrit Lecturer in the Department of Classical Language at the University of Peradeniya.
Currently Bhante is the senior teacher and leader of the Oklahoma Buddhist Vihāra. With 25 years of experience as a monk, Bhante guides the community in the Noble Practices left to us by the Buddha, sharing as much with the community as they are interested to learn. Bhante leads regular meditation classes throughout the week and is a Chaplain at the Oklahoma City Veterans Administration Medical Center (OKCVAMC) and volunteers at hospitals in the Central Oklahoma Region and the Oklahoma City County Jail.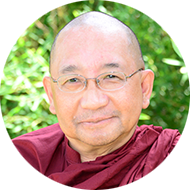 Born in Hawaii, Bhante Piyananda was exposed to Buddhism due to the large Japanese presence there. He moved to California and later Chicago and Houston for a college education. In 2010, Bhante Piyananda retired in good standing as a Registered Addiction Specialist. His career spanned two decades with training in Welfare Law; clinical specializations in Adult HIV/AIDS Care; linkage case management with jail discharge planners; and crisis intervention services with those whose lives were impacted by persistent co-occurring disorders. He entered monastic training in 2011 and was ordained as a novice monk in 2013 under his preceptor Bhante Piyaratana Thero.
Previous Theology and Comparative Religion training assisted with his transition to Buddhist monastic life. He holds an M.Div. from an interprovincial seminary and a B.Sc. in Biology, emphasis in allied health promotion. He attained his CADC in 1997, his NCRS in 2001 and his RAS in 2001. Bhante Piyananda assists Bhante Piyaratana in co-facilitation of a morning meditation class offered as complimentary therapy at OKC VAMC. His current studies are centered on Pāli language, Theravāda Buddhist studies, and Monastic Rules of the Vināya.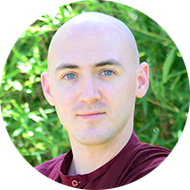 Bhante Santhapiya was born in New Hampshire. His father's service in the U.S. Air Force brought many opportunities to experience different people, cultures, and lifestyles from all over the country and also overseas in Japan. Bhante Santhapiya eventually settled in Oklahoma where he finished high school and began college. He is currently attending the University of Central Oklahoma for a degree in Instructional Design to aid in providing effective Dhamma instruction.
After discovering the Buddha's Teachings in 2008, Bhante Santhapiya began to direct his life to the practice and development of his mind. After careful consideration and five years of discernment, he became a novice monk under Bhante Piyaratana Thero May 22, 2013 with Bhante Piyananda. Bhante Santhapiya is devoted to the practice, study and sharing of the Buddha's teachings. Each week Bhante helps guide meditation classes with Bhante Ratana and Bhante Piyananda. Bhante Santhapiya supports the temple by supplying designs for print and web media.